Olena Zelenska, in the video greeting sent to the Kumu exhibition: Culture will win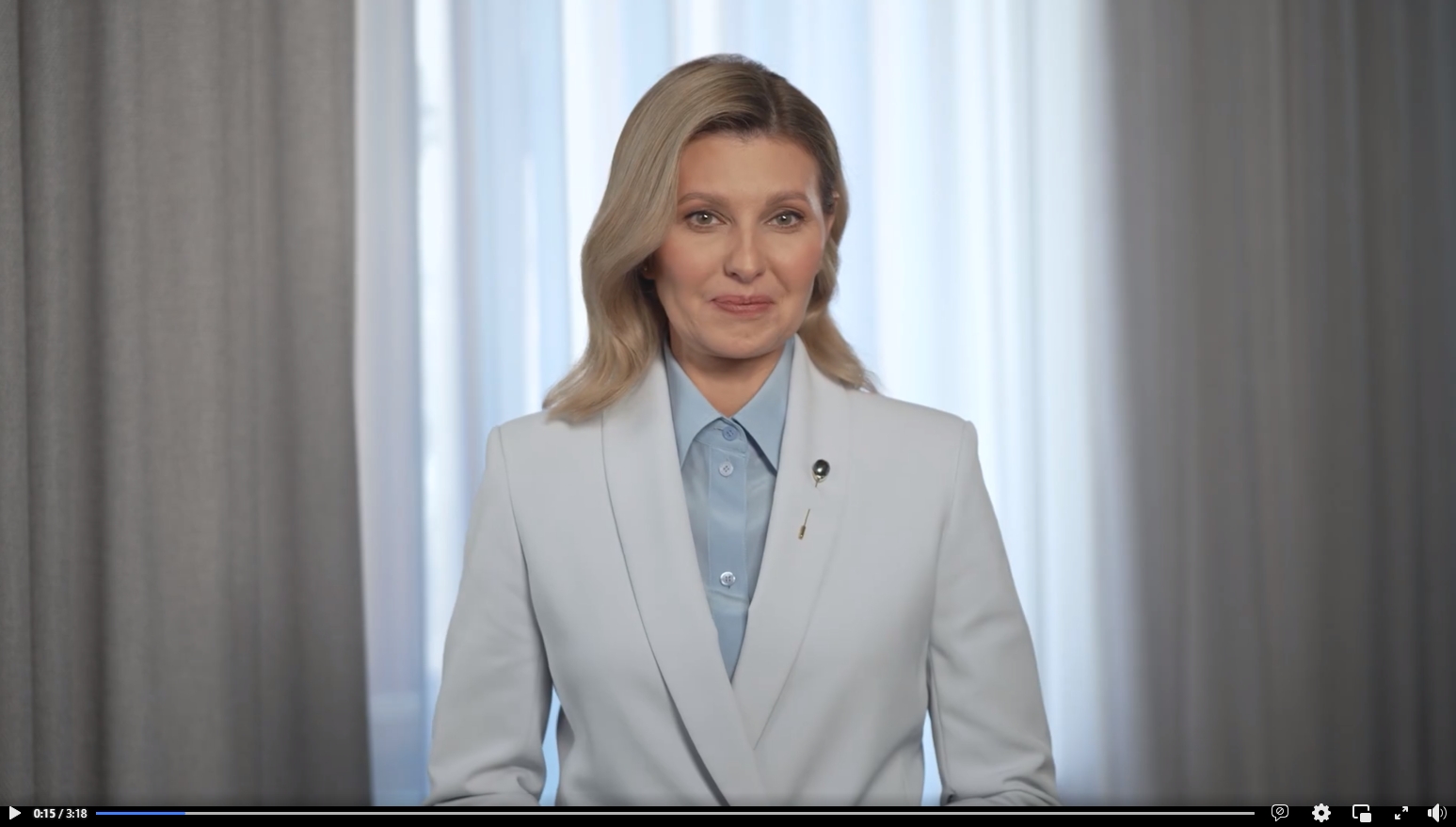 Olena Zelenska, the wife of the Ukrainian President Volodymyr Zelenskyy, delivered a video greeting at the opening of the exhibition Futuromarennia: Ukraine and Avant-Garde that recently opened at the Kumu Art Museum.
"Culture wins. The future and dreams about it cannot be killed. Therefore, Futuromarennia is a key that helps to understand not only Ukrainian culture but also the sources of Ukrainian resilience and resistance," said Zelenska, who is also a member of the Development Council of the co-organiser of this exhibition, Mystetskyi Arsenal art centre in Kyiv.
According to Zelenska, the Futuromarennia exhibition is dedicated to those Ukrainian artists, i.e. futurists and avant-garde artists, including writers, painters and film directors, who were active a hundred years ago. "Their work could have become part of world heritage had they not been executed. Some of them did manage to gain international recognition, but only after their true identities were concealed and they were labelled Russians," the First Lady of Ukraine noted.
"Times rhyme in strange and dark ways. The brightest stars of Ukrainian culture of the 20th century ‒ Mykola Khvyliovyi, Les Kurbas, Maik Yohansen and Ostap Vyshnia ‒ were repressed, had their careers destroyed or were shot by the Soviet authorities. And now, a century later, the Russians are shooting Ukrainians and destroying the city of Kharkiv, where these artists lived their daily lives. That includes the Slovo Building, where they had their flats. You can learn about all of this at the exhibition," Zelenska said.
According to the First Lady of Ukraine, right now, during the war, Ukrainians feel that the destroyed and repressed art is finally on its way to victory: "Because we remember our Futurists. They support and inspire us. The world's museums support us by revealing the truth about the Ukrainian origins of many acclaimed artists."
The Futuromarennia: Ukraine and Avant-Garde exhibition, which has been open since 8 April at the Kumu Art Museum, presents innovative artistic visions of the future that were born in historic areas of Ukraine between 1910 and 1920.
The works included in the exhibition present radical dreams of a possible future in cinematography, stage design, architecture and literature, but primarily in painting. The works by Oleksandra Ekster, Davyd Burliuk, Vasyl Yermylov and many other outstanding artists come from museums that continue to work even during the war, while being continually attacked by Russia.
Since the opening, 2886 art lovers have visited the exhibition. For Ukrainian war refugees, admission to Kumu is free during the exhibition period, upon presentation of a document certifying Ukrainian citizenship. During the first four days of the exhibition, the Kumu Art Museum has been visited by 114 Ukrainian war refugees.